SILO as first company in the world developed, patented, and launched on the market 1-Mono-glycerides of short and medium-chain fatty acids to be used in animal nutrition.
SILO has been developing the technical know-how on the efficacy of 1- Mono-glycerides and on their applications for over 10 years.
The attempts at imitation of SILO products are really numerous but without the expected success!
SILOhealth Swine is a synergistic combination of short and medium-chain 1-Monoglycerides.
The efficacy of SILOhealth Swine as a help in reducing enteric antibiotics and ZnO has been validated in an extensive experimental program and is confirmed in our everyday field experience.
E

Can be used in combination with the standard antibiotic programs of the farm

E

Helps support gut health

E

Strongly helps increase the survival rate

E

Helps improve the gut integrity

E

No negative effects on Lactobacillus

E

Improves litters quality, FCR

E

Strongly helps improve survival rate
E

Available in dry and liquid form, for feed and drinking water applications

E

Non corrosive

E

Neutral taste and odor

E

Packaging: 25 kg bag, big bags, 20 kg cans, 1000 kg IBC

E

Heat stable up to 200 ° C

E

Compatible with all ingredients of feed and premixes

E

Produced in GMP+ / ISO / QS / FamiQS certified facilities
 

Data from the study published in 2019, A. Quarantelli, Engormix
Number of Piglets: 180
Age: 21-days
Treatments:
The antibiotic group received a commercial feed supplemented with Doxycycline during the first 40 days and with Sulfadiazine and Trimethoprim during the subsequent 30 days of the trial.
The SILOhealth group received the same commercial diet supplemented with 4kg of SILOhealth/ton of feed during the first week and with 3kg of SILOhealth/ton of feed during the subsequent 63 days of the trial.
Performance from 0 to 70 days
Control 
SILOhealth Swine  
 Delta (%)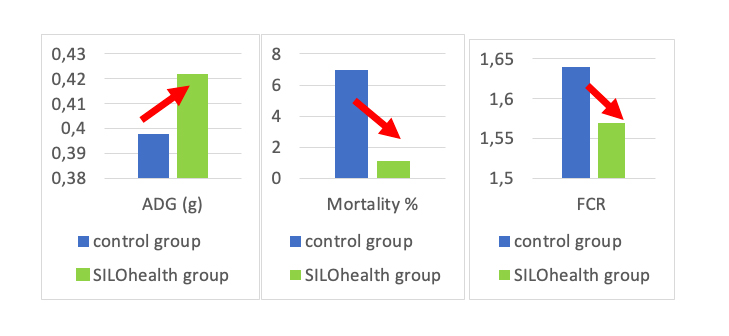 Discussion:
The SILOhealthgroup showed improved ADG, FCR, diarrhea score and survival rate compared to the antibiotic group.