NAUTILUS is a new patented rumen bypass technology developed by SILO to transport functional nutrients and additives in a safe way through the rumen and to release them in the abomasum. (EU: Patent PCT/IBP2019/059821)
Granules of defatted soybean meal are filled with functional ingredients like amino-acids, vitamins, flax oil, Monoglycerides. Filled granules are covered with a pH sensitive protective matrix. They act as a vector to deliver a cocktail of functional ingredients to the abomasum.
The double pH-sensitive protection preserves all the ingredients from ruminal degradation and releases the functional ingredients in the gut.
PECULIARITIES OF NAUTILUS TECHNOLOGY
In the granule of defatted soybean meal, we can micro-encapsulate several ingredients together, for instance: amino-acids, choline, vitamins, flax oil, according to the requirements of the nutritionist. This involves an economic advantage because micro-encapsulation costs are lower than the costs for micro-encapsulation of single ingredients. Of course, we can micro-encapsulate also single ingredients with high inclusion level.
The pH sensitive film used for the coating grants a high rumen bypass degree and also a high bio-availability in the gut. The lipid protection opens already in the abomasum under the action of acidic pH and does not require the attack of lipases. This fact involves a high digestibility of the proteins as well.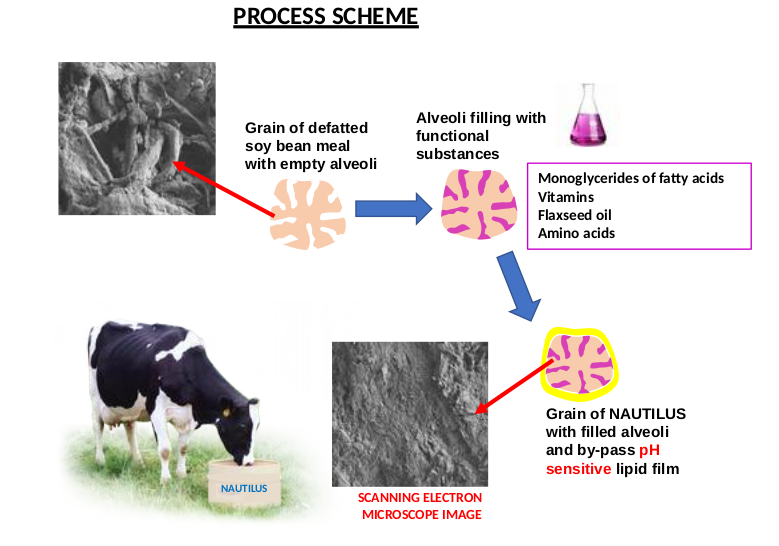 E

High bypass degree

E

High digestibility and bio-availability of the ingredients in the gut

E

Customization: you can design your Nautilus with specific ratios among amino-acids, vitamins, choline, Monoglycerides

E

Economic return due to the fact that not only one, but many ingredients are incapsulated together in the defatted soybean granule
E

Aspect: similar to soybean meal

E

It can be mixed with the ruminant's ration in the mixer wagon or incorporated into the feed

E

Resistant to estrusion and pelletization

E

Highly palatable

E

Packaging: 25 kg bags or big-bags